Kami no Kuni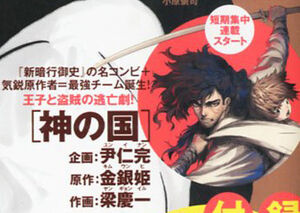 Information
Title:
Kami no Kuni (神の国)
Author:
YOUN In-Wan & YANG Kyung-Il & KIM Eun-Hee
Original Run:
August 27, 2014 – November 27, 2014
Published by:
Gekkan! Spirits (Shogakukan)
Volumes:
4 Chapters
Genre:
Action / Adventure / Drama / Historical / Seinen
Kami no Kuni (神の国, Kami no Kuni) is a Japanese manga series written by YOUN In-Wan & KIM Eun-Hee and illustrated by YANG Kyung-Il.
An odd duo between a prince presumed to be dead by the public and a mountain thief with exceptional fighting prowess and a mysterious disease travel together to reach the prince's home. The prince, named Imun, has promised the mountain thief Jeha a large sum of money as reward once they reach his homeland. Their travels together will be filled with challenges and death. Will they make it?
In 2015, the 4 chapters were released in a book called Burning Hell Kami no Kuni, combining Kami no Kuni with another short story by the same authors called Burning Hell.
Manga Guide
Edit