Kami no Kuni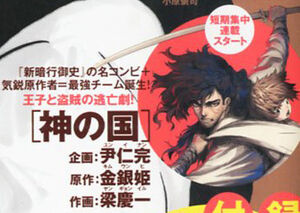 Information
Title:
Kami no Kuni (神の国)
Author:
YOUN In-Wan & YANG Kyung-Il & KIM Eun-Hee
Original Run:
August 27, 2014 – November 27, 2014
Published by:
Gekkan! Spirits (Shogakukan)
Volumes:
4 Chapters
Genre:
Action / Adventure / Drama / Historical / Seinen
Kami no Kuni (神の国, Kami no Kuni) is a Japanese manga series written by YOUN In-Wan & KIM Eun-Hee and illustrated by YANG Kyung-Il.
An odd duo between a prince presumed to be dead by the public and a mountain thief with exceptional fighting prowess and a mysterious disease travel together to reach the prince's home. The prince, named Imun, has promised the mountain thief Jeha a large sum of money as reward once they reach his homeland. Their travels together will be filled with challenges and death. Will they make it?
In 2015, the 4 chapters were released in a book called Burning Hell Kami no Kuni, combining Kami no Kuni with another short story by the same authors called Burning Hell.
Manga Guide
Edit
Ad blocker interference detected!
Wikia is a free-to-use site that makes money from advertising. We have a modified experience for viewers using ad blockers

Wikia is not accessible if you've made further modifications. Remove the custom ad blocker rule(s) and the page will load as expected.